CASA and KPC become Nordstern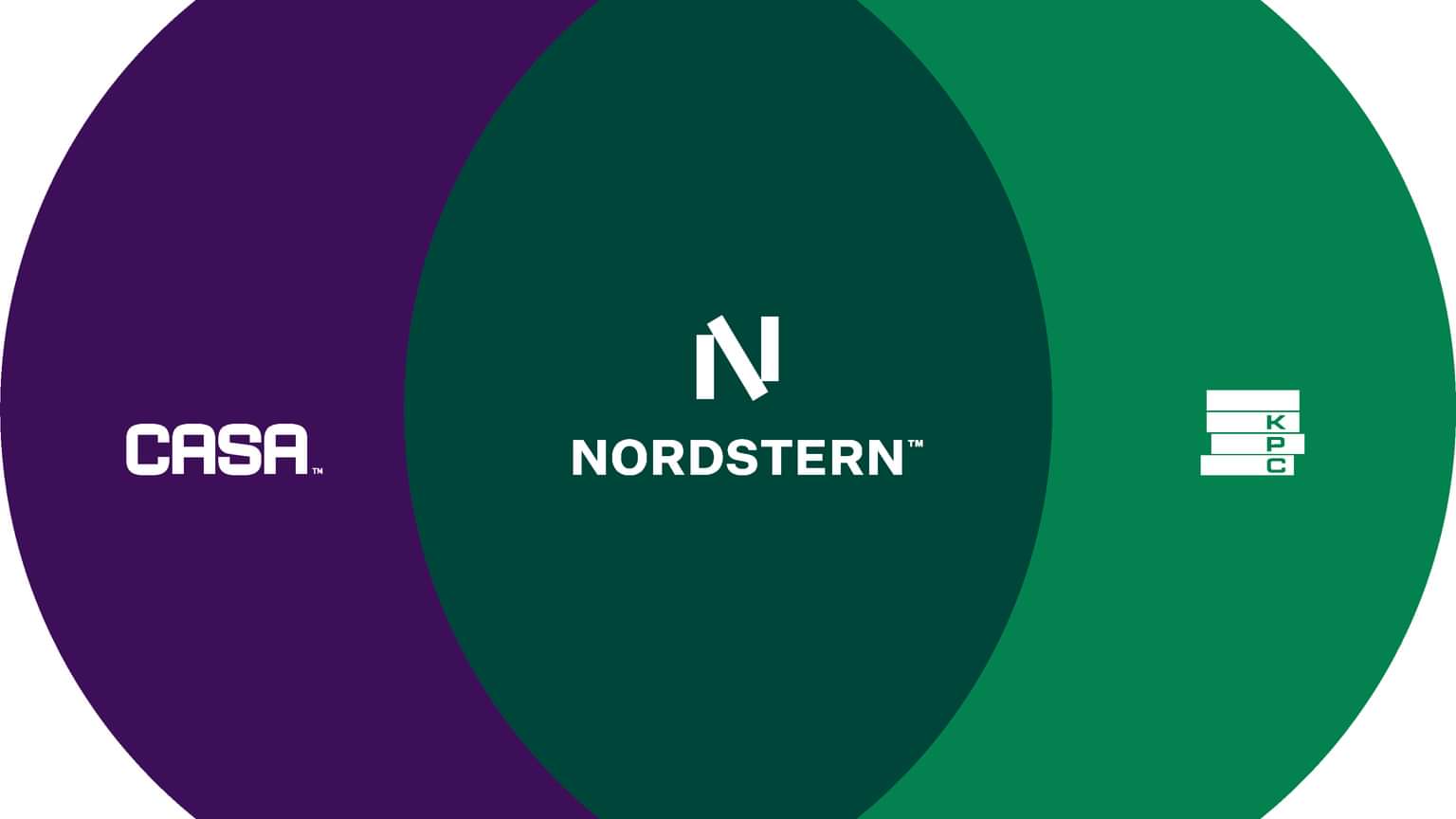 Two of Denmark's strongest property developers and turnkey contractors, CASA and KPC, will have a new common name from the first of October: Nordstern.
Since CASA's owner ActivumSG took over KPC this summer to merge the two companies, they have been working on a unified identity.
The wish has been to reflect both the legacy of CASA and KPC and the clear common features that clients and suppliers in both companies are familiar with: Solidity, decency and responsibility.
"We have been looking for a name that covers the legacy of both CASA and KPC, and what we can do together. With the name Nordstern, we want to show our clear strengths and our deep Danish roots. We are known for standing firm – even when things get difficult – and for setting new standards for how to build the homes and offices for the Danes," says Torben Modvig, Group CEO of Nordstern.
The new, dark green Nordstern colour that characterises the merged company is a direct fusion of the colour tones that so far have been landmarks for CASA and KPC.
Already from 1 October, clients and suppliers will first and foremost meet the Nordstern name. However, on several construction sites, you will still be able to see the CASA and KPC names.
Along with the Nordstern name comes a new logo that represents building elements and illustrates both the creative and the buildable.
CASA was founded in 2006 and had in 2021 a turnover of more than DKK 3 billion and more than 250 employees. In the summer of 2021, CASA was bought by a fund under the pan-European real estate fund ActivumSG. In May, ActivumSG and the owners of KPC announced a conditional deal that will end with the merger of CASA and KPC. The Danish Competition and Consumer Authority approved the merger the same month. In 2021, KPC had a turnover of DKK 2.3 billion and 160 employees.
The acquisition of KPC became a reality on June 14, 2022, and with Torben Modvig at the head, efforts have since been made to bring the two players together in a joint company. That work will continue into 2023:
"The project of bringing together two strong cultures and taking the best of both CASA and KPC with us is going as planned, even though the circumstances in which we operate have become more challenging. In fact, the increased pressure on the industry clearly underlines the benefits of pooling our strengths," says Torben Modvig.
Nordstern is one of Denmark's leading property developers and turnkey contractors, owned by ActivumSG and created by the merger of CASA and KPC – two independently strong players in Danish construction. With a history stretching back to 1979, Nordstern is today a nationwide company group with offices in Aarhus, Herning, Horsens and Copenhagen. As one of the largest development and construction companies in Denmark, Nordstern has a turnover of more than DKK five billion with an EBIT of more than DKK 600 million.
Nordstern's more than 500 employees work dedicatedly every day to develop the company of which they are co-owners. With a goal of sustainability certificating all new residential and office buildings by 2023, Nordstern sets new standards within sustainable commercial and residential constructions in Denmark.
ActivumSG Capital Management Ltd. focuses on opportunities in European real estate that deliver attractive risk-adjusted returns to investors. ActivumSG has raised seven closed-end funds and several co-investment opportunities to date. For the past 15 years, ActivumSG's multidisciplinary teams have looked across capital structures to identify the optimal entry point to access compelling real estate themes before they are pursued. ActivumSG's experienced local teams, operating from five offices across Europe, are creating opportunities across a wide range of sectors and unlocking real and lasting value through internal asset management, which they crystallize for investors through the most appropriate exit. For more information, visit the website, activumsg.com
Press:
Christian Sehested, Geelmuyden Kiese, +45 3126 3027, christian.sehested@gknordic.com