New educational and research centre campus and innovation house
VIA Campus
Campus for 2,900 students. Accommodates more than 25 study programmes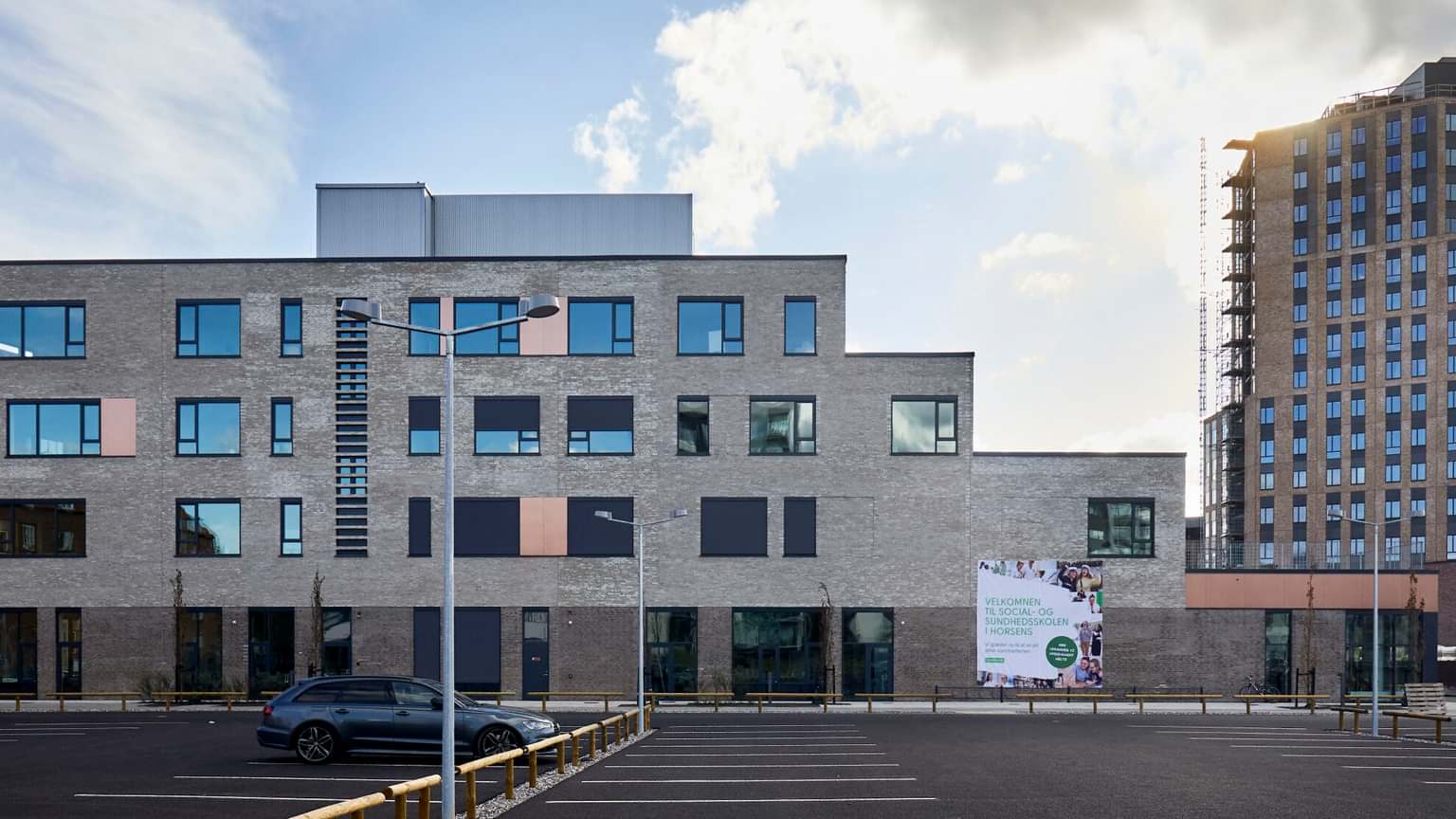 The new VIA University College, Innovation House and the Social and Health Education College are located on a 37,500-m2 campus area in Horsens. The campus site will mainly be used for teaching and has a central location in Horsens right across from the train station and close to the motorway link. A vital part of the development project involves creating coherence with the city and guide the citizens into the area via open squares and urban spaces. VIA University College comprises more than 25 different study programmes with room for 2,900 students.
The VIA University College and the Innovation House have been built as three large, interconnected 4-5-story atrium buildings. One of the atrium buildings turns into a light, slender tower; the 16-storey Innovation House. Soaring 68 metres, the Innovation House will become the tallest building in Horsens.
Next door is the Social and Health Education College, with room for 300 students and 35 employees. The compact atrium house has openings on all floors. On the first floor there is a roof terrace with direct contact to Campuslinjen. The Social and Health Education College is located with a special exposure at the intersection of Konsul Jensens Gade and Campuslinjen, which means that the college appears as having several primary facades.
The lower eight floors of the Innovation House are home to Via University College. On the top eight floors is Construction Center Denmark, an innovation environment that unites start-ups and the established construction industry through knowledge and professional networks. Behind Construction Center Denmark is VIA University College and the association Insero Horsens.
Campus Horsens makes use of a simple design strategy with selected materials, such as bricks in red and golden shades, oak and distinctive bright dynamic openings in atriums with skylights that unite the interior of the buildings.
The buildings are constructed with focus on energy optimisation, low operating costs and good indoor climate.
The building is envisaged with great openness and coherence between the different building sections. The coherent building stock has called for a number of passive and active fire safety measures and technology out of the ordinary. The project is part of a major reshuffle in Horsens, where the former VIA Campus is being renovated and becomes Horsens' new Town Hall.
The project was completed on 15 June 2021.
Progress
May 2020
Topping-out Ceremony
Contact for information about the construction project